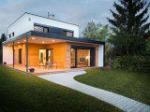 Public chose the best passive house of 2016. It is a wooden house in Černošice, proposed by architect Irena Truhlářová from the studio ARCHCON atelier. Nearly a fifth (17, 3%) of voters voted for the house. In choosing the winners participated a total of 4 815 people, or about 59 percent more than inlast year. Technical details of the house you would find here. The owners won the Public Award and two-wing American refrigerator. On the second place is the family home Kociánka by architect Pavel Jury with a total of 563 votes (more here), and the third is the house ATREA Liberec-Ruprechtice, designed by engineer Thomas Krupa from the studio Symbiosa, with 513 votes (more here). The winner was announced at the opening ceremony of the FOR PASIV with a participation of the Environment Minister Richard Brabec. Public Award was handed over the winner by Director of the State Environmental Fund Petr Valdman.
Awards also received three people who participated in the poll. Each of them received a voucher for purchasing of goods for 15 000 crowns in SIKO KOUPELNY & KUCHYNĚ, from supplier of chimney systems CIKO, and for the purchase of a range of lights from Zumtobel and Thorn.
This year 53 original energy-efficient buildings were registered. The expert jury have selected the best thirteen of them. The novelty, comparing to last year, was that houses could compete in two categories – Passive family house and Other highly energy-efficient buildings. The winners are four. An independent jury chose one in each category - they won the Jury Prize, award Prize of general partner took Isover, a division of Saint-Gobain Construction Products CZ. Own winner from a full thirteen of finalists chose public itself and thanks to the total number of votes it won Public Award.
Note, in competition were able to take part houses, which were built and reconstructed during the last two years.
The competition Passive House 2016 was organized for the second year by ABF company. The actual coordination was ensured by an independent organization Centrum pasivního domu (Passive House Centre). The event is held annually under the auspices of the State Environmental Fund of the Czech Republic.