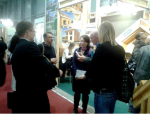 Enterprise Europe Network (EEN) at the Centre for Regional Development of the Czech Republic have organized with a cooperation with ABF company and Roofs Prague mission of German entrepreneurs on February crafts fairs, which will take place at PVA EXPO PRAGUE in Letnany.
The main foreign partner of the project is EEN at Dresden Chamber of Trades and Crafts Handwerkskammer Dresden, members of which have a long-term interest in cooperation with Czech crafts firms and suppliers of building materials.
Ten participants from Dresden and neighbourhood have registered to mission. Most represented were carpenters and joiners, producers of wooden constructions, windows and doors, pergolas, winter gardens, terraces and saunas. Fair was visited by, for instance, producer of children playgrounds or expert on wood quality.
After introductory round of bilateral Czech-German negotiations, German entrepreneurs visited the fair, where they searched for new partners for their business; especially saws and suppliers of raw wood suitable for carpenters and joiners, and other small firms: carpenters and joiners – suppliers for own realization in Germany. Participants evaluated professional orientation of the fair where they got a good overview of a situation in those crafts sectors in Czech Republic and took interesting contacts to presented exhibitors. Some carried with them samples of roof covers or wood and right on a place negotiated with exhibitors about prices, technical and another aspects of possible cooperation. Organizers ensured professional translations, what overcame possible initial Czech-German language barrier.
EEN at the Centre for Regional Development of the Czech Republic have contacted appropriate Czech firms before the event and ensured Czech-German negotiations during the fair. German participants were satisfied with the visit and both EEN partners have agreed on repetition of the same mission on crafts fair in 2018.
Contact person: Eva Hrubešová, Enterprise Europe Network at the Centre for Regional Development of the Czech Republic, U Nákladového nádraží 3144/4, 130 00 Praha 3 - Strašnice, tel. 225 855 321, e-mail eva.hrubesova@crr.cz